Leadership Team
Murrieta Development Inc. is a Women-Owned Small Business.
Chris Close - President and CEO

Christene Close is the majority owner, President and CEO of Murrieta Development, Inc., a Woman Owned Business Enterprise and leading general engineering contractor headquartered in Temecula, Southern California. Christene has over 20 years of experience in all areas of infrastructure, including Sewer and Water Distribution Systems, Storm Drains, Dry Utility Systems, as well as in the vertical construction of residential, commercial and industrial buildings throughout Southern California.

Christene was instrumental in guiding the company into the public works and federal projects marketplace, insuring that all necessary certifications and registrations (i.e. DUNS, CAGE, NAICS, WOBE) were in place, and that the company is pre-qualified with the appropriate Lead Officers and Prime Contractors.

In addition to her extensive knowledge of infrastructure development, Christene manages office staff, procures new projects as Director of Business Development, and is active in local community events and charities. Christene's professionalism and understanding of business operations has led Murrieta Development to grow into one of the more financially sound and profitable construction companies in the region.
Todd Close - Vice President

Todd Close Vice-President and CFO of Murrieta Development, Inc., a leading general engineering contractor headquartered in Temecula, California. He has nearly 30 years of experience in the construction of underground pipeline projects, including major storm drains, sewer and water distribution systems, and dry utility conduit systems in Southern California, Arizona, and Nevada.

The projects built include infrastructure improvements for residential subdivisions, hospitals, commercial / retail buildings, warehouse and distribution centers, and roadway improvements, and major underground wet & dry utilities for numerous municipalities and water districts.

Todd oversees the management of all construction and field operations. Todd's personal growth in field operations leadership and positive interaction with company personnel, and customers alike, has resulted in constant growth for the company in terms of increased volume, financial profitability, and customer satisfaction.

Todd holds the following training certifications: USACE/NAVFAC Construction Quality Control Management, CPR/First Aid/Defibrillator, Competent Person in Confined Space Procedures and Excavations, OSHA and EM-385 10 Safety Training Programs.

Contractor's License: California "A" 558592
Dustin Stites - Director of Operations

Dustin started his career working for a small General Contractor building custom homes in Coronado, CA. During this time Dustin was attending San Diego State University where he earned a Bachelor's of Science in Finance. Upon his graduation in 2004 he accepted a position with Pulte Homes as an Assistant Superintendent. Dustin worked at Pulte Homes for 4 years, during which time he was promoted to Superintendent and then Project Manager.

In 2008 Dustin accepted a position with Reyes Construction as a Project Manager / Estimator. Reyes Construction is a General Engineering contractor specializing in heavy civil horizontal construction projects. During his tenure with Reyes, Dustin managed several high profile Public Works and Federal Government construction projects.

In 2010 Dustin joined the Murrieta Development Company team as a Senior Project Manager / Estimator and was promoted to Director of Operations in May of 2014. In addition to his diverse experience in Construction Management and Finance, Dustin is also a licensed CA Real Estate Broker.
Tracy Meeks - General Superintendent

Tracy has over 20 years of experience managing civil construction projects. Tracy's knowledge, personality, and strong attention to detail has helped him build a great industry reputation, as well as, building great relationships with customers and supervising municipalities. Tracy oversees the management of all day to day construction and field operations for Murrieta Development and ensures that all jobs are scheduled and constructed to meet and exceed the customer's expectations.

CERTIFICATIONS/TRAINING:
NAVFAC/USACE EM-385
NAVFAC/USACE QUALITY CONTROL MANAGER
EXCAVATION COMPETENT PERSON
CONFINED SPACE COMPETENT PERSON
SWPPP
AQMD PM-10
Megan Wright - Human Resources

Megan was born and raised in Nebraska and received her bachelor's degree from the University of Nebraska- Lincoln. Shortly after graduation she moved west to California to begin her career. She joined MDC team in 2010 as Payroll Manager/ Human Resources Manager and in 2014 fully immersed herself into the role of Human Resources Manager/ Safety Administrator. Megan oversees employee relations, employee hiring, training, benefits, workers' compensation, safety and compliance. Megan has played a crucial role in developing and implementing various compliance projects and policies.

Megan earned her 10- hour OSHA Training Certificate and is a member of CalChamber HR of California. She is a proud member of the Murrieta Development Team and is dedicated to assisting the positive growth of the company.
Bill Estrada - Estimator

Bill has 40 years of experience in the heavy civil construction industry. During this time Bill has worked for various well-known companies such as: PBS&J, Griffith Company & Excel Paving. He held positions ranging from Foreman to Senior Estimator/ Project Manager, he also owned his own construction company for a number of years in the late 90's. Bill brings a diverse skill set to Murrieta Development with his vast knowledge of grading, paving & concrete construction. Serving as the Mayor/Councilmember for the City of Stanton from 1993 to 2005 Bill possess valuable knowledge of the public governmental process which is becoming an increasingly important component of the construction industry.
Vince Guglielmana - Estimator/ Project Manager

Vince joined our team in 2010 shortly after graduating from the University of California, Berkeley. There, he studied Political Science with an emphasis on statistics and city planning. Vince began as a project engineer and has worn many hats since. Currently, he is our Dry Utility Project Manager. He takes great interest in integrating technology with construction and has even had his work in the field featured at the 2013 NDIA Gold Coast Conference. Although he is the youngest member of our team, he has already achieved great things and has played an integral part in preparing our business for the construction industry of tomorrow.
Robyn Samuelson Dodd - Controller

Robyn Samuelson Dodd has over 18 years in accounting experience and expertise specializing in the construction industry. She has spent 15 years in public accounting as an Audit Department Manager and her last 3 years in private industry as a controller.

Her background in audit and tax has given her the skills and knowledge to maintain the company's financials properly while paying strong attention to daily details.

Originally from the East Coast, Robyn moved to Temecula 8 years ago to escape the cold winters. She obtained her bachelor's degree from the University of Buffalo at New York with a dual major in Accounting and Finance.

Robyn enjoys being involved in her community by volunteering her time as a Director of her home owners association and as a Treasurer of the Temecula Valley Mothers of Multiples.
Alan McGregor - Fleet and Shop Manager

Alan was raised in the Temecula area and has lived here for 36 years. A mechanic by trade, he started as a professional mechanic at age 18. Alan owned an auto repair shop for many years and sold it.

Alan and his brother Mike owned an excavation company together for six years. The excavation company is where he learned about employees, payroll, fleet maintenance, heavy equipment, compliance paper work and contracting.

Alan purchased a fleet fuel management company in 2006. He completed projects nationwide from the County of Kauai, FBI, NASA, Lockheed, Sears, Super Shuttle, Frito Lay, to the University of Pennsylvania. Alan was a software trainer and project manager for fuel management equipment installations. He was able to work at a different fleet each week and see how they operate. Alan sold the business last year and is very happy to work locally.

Alan joined Murrieta Development Company in 2014 as the Fleet and Shop Manager. Alan is responsible for the maintenance of all equipment, vehicles, equipment and repair facility. Alan is focused on supporting wet and dry utility services with maintenance, supplies and better communication.
Lisa Wills - Estimator/ Project Coordinator/ Accounting Manager

Lisa Wills has over 10 years of experience in the underground utility construction field and works in several departments of Murrieta Development. Lisa is a versatile team player who plays an integral role in the continued improvement of the Company.

Lisa manages accounts receivable, lien releases and portions of the accounts payable as well as coordination of: projects, contracts and insurance logs. Her Knowledge and understanding of construction drawings and techniques allow her to handle project take-offs in the estimating department.
Featured Clients
---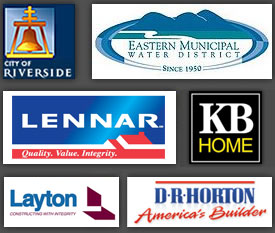 ---
To see the full list of recent clients, click the Read More button.