About Us
Murrieta Development, Inc., based in Temecula, California, has served the Southern California region and the neighboring states of Arizona and Nevada for over 41 years. During its first several years, Murrieta Development became an industry leader in the installation of Water, Sewer and Storm Drain systems. During recent years, with the addition of highly qualified personnel and the acquisition of an extremely successful Dry Utility contractor, we have enhanced our capabilities and expanded the geographic regions that we serve. Read more about our history.
We pride ourselves on customer and employee loyalty. A large number of our team members have been employed with us for over 41 years, confirming our commitment to providing a work environment that is safe, and that provides the necessary equipment and training to help all employees be successful. The desired success of each and every employee is reflective of the commitments and values of this family owned company founded over 41 years ago. Meet the leadership team.
As a testimony to the principles and values that we hold true, our company vision states our focus that a "Continuous commitment to Quality, Workmanship and Safety through our employees and their families continues to make Murrieta Development customer focused and a world class model to our industry."
As a team, we enjoy the challenge of difficult projects that might steer away our competitors, because we know that with our expertise, efficiencies, education, and desire to succeed, we will complete the projects professionally, on-time, and within budget.
Featured Clients
---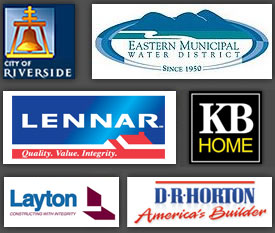 ---
To see the full list of recent clients, click the Read More button.