Leadership Team
Murrieta Development Inc. is a Women-Owned Small Business.
Chris Close - President and CEO

Christene Close is the majority owner, President and CEO of Murrieta Development, Inc., a Woman Owned Business Enterprise and leading general engineering contractor headquartered in Temecula, Southern California. Christene has over 20 years of experience in all areas of infrastructure, including Sewer and Water Distribution Systems, Storm Drains, Dry Utility Systems, as well as in the vertical construction of residential, commercial and industrial buildings throughout Southern California.

Christene was instrumental in guiding the company into the public works and federal projects marketplace, insuring that all necessary certifications and registrations (i.e. DUNS, CAGE, NAICS, WOBE) were in place, and that the company is pre-qualified with the appropriate Lead Officers and Prime Contractors.

In addition to her extensive knowledge of infrastructure development, Christene manages office staff, procures new projects as Director of Business Development, and is active in local community events and charities. Christene's professionalism and understanding of business operations has led Murrieta Development to grow into one of the more financially sound and profitable construction companies in the region.
Todd Close - Vice President

Todd Close Vice-President and CFO of Murrieta Development, Inc., a leading general engineering contractor headquartered in Temecula, California. He has nearly 30 years of experience in the construction of underground pipeline projects, including major storm drains, sewer and water distribution systems, and dry utility conduit systems in Southern California, Arizona, and Nevada.

The projects built include infrastructure improvements for residential subdivisions, hospitals, commercial / retail buildings, warehouse and distribution centers, and roadway improvements, and major underground wet & dry utilities for numerous municipalities and water districts.

Todd oversees the management of all construction and field operations. Todd's personal growth in field operations leadership and positive interaction with company personnel, and customers alike, has resulted in constant growth for the company in terms of increased volume, financial profitability, and customer satisfaction.

Todd holds the following training certifications: USACE/NAVFAC Construction Quality Control Management, CPR/First Aid/Defibrillator, Competent Person in Confined Space Procedures and Excavations, OSHA and EM-385 10 Safety Training Programs.

Contractor's License: California "A" 558592
Dustin Stites - Director of Operations

Dustin started his career working for a small General Contractor building custom homes in Coronado, CA. During this time Dustin was attending San Diego State University where he earned a Bachelor's of Science in Finance. Upon his graduation in 2004 he accepted a position with Pulte Homes as an Assistant Superintendent. Dustin worked at Pulte Homes for 4 years, during which time he was promoted to Superintendent and then Project Manager.

In 2008 Dustin accepted a position with Reyes Construction as a Project Manager / Estimator. Reyes Construction is a General Engineering contractor specializing in heavy civil horizontal construction projects. During his tenure with Reyes, Dustin managed several high profile Public Works and Federal Government construction projects.

In 2010 Dustin joined the Murrieta Development Company team as a Senior Project Manager / Estimator and was promoted to Director of Operations in May of 2014. In addition to his diverse experience in Construction Management and Finance, Dustin is also a licensed CA Real Estate Broker.
Featured Clients
---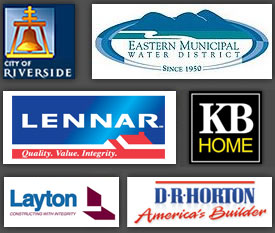 ---
To see the full list of recent clients, click the Read More button.