Community Involvement
Murrieta Development has allways had a passion for community involvement. Through our contributions, and involvement, we know that we are helping to make a difference in improving our community. Below are a few of the organizations that we have been involved with:
Acacia Middle School
American Cancer Society
BIA Cares for Kids
Boys & Girls Club of Southwest County
City of Hope
DeLuz Womens Club
EDC of Southwest California
Girls Scouts - Troop 267
Habitat for Humanity
Hemet Youth Baseball
Heritage High School Football
Lady Tiger's Basketball
Leukemia & Lymphona
Lights Out Softball
Linfield Christian School
Oak Grove Center for Education Treatment & the Arts
Ontario-Montclair YMCA
RCRMC Foundation
San Diego Heart Walk
Special Olympics of Southern California
Susan G Komen for the Cure
Temecula Valley Girls Softball
The Brett Downey Safety Foundation
Travel Lite Softball
Vista Murrieta High School
Wildomar Little League
William Syndrome Association



MCD has over 90 employees, 6 transfer trucks, 1 lowbed, 7 water trucks, 43 crew trucks, 2 welding trucks, 2 mechanic trucks, 6 Foremen's trucks and over 100 pieces of heavy equipment. With a bright future ahead, we look to incorporate various programs such as TPR, Safety, and more to sustain company growth and employee involvement to continue "Leading the Industry rom Start to Finish." Read more about our history.
Our Vision
Murrieta Development Company Inc. continuous commitment to quality, workmanship and safety through our employees and their families continues to make MDC the focus of our customers and a world class model to our industry.
Our Mission
In support of the vision, the Murrieta Development Company Inc. will:
Invest in developing the talents, skills, knowledge of our valued employees; supported by rewards and recognition
To improve management of resources in process and practices
Strive towards operational excellence in process and practices
Establishing goals and ensuring their completions through measurement
Embrace the collective synergy and power of employee based teams and develop partnership practices between all functions using problem-solving and open communication.
Featured Clients
---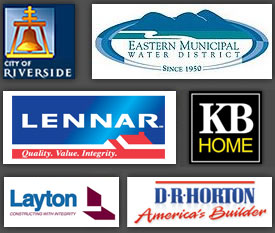 ---
To see the full list of recent clients, click the Read More button.