SAFETY FIRST!
The ownership and management of Murrieta Development Company (MDC) recognize the necessity and responsibility of implementing a successful Safety Program. It is our belief that preventable accidents resulting in personal injury and/or property damage produce costly waste and needless loss. Therefore, in order to ensure the success of the Safety Program, MDC has developed activity specific safety and health procedures.
MDC's safety and health procedures are developed with the intention of being "field friendly", while still meeting or exceeding the governing standards. The procedures are written with the intention of providing a safe and healthy work environment for all employees, by specifically targeting the construction activities that MDC performs:
EXCAVATIONS
CONFINED SPACE
HAZARD COMMUNICATION (GHS)
HEAT & ILLNESS PREVENTION
PERSONAL PROTECTIVE EQUIPMENT
It is the company Safety Officer & Administrator who continually review and revise the procedures in order to ensure that they remain relevant to an ever changing industry and work environment.
Training is a key element to the success of MDC's Safety Program. Supervisors and employees are provided with the necessary safety trainings & tools to protect all MDC employees. Our Safety Training Program utilizes various aspects and techniques that adapt to the ever changing construction industry. In order to be effective, training must include all aspects of learning which includes the visual, audio and physical. MDC's Field Supervisors & Managers receive their safety training from OSHA certified instructors and related sources. Training class topics include (but are not limited to):
OSHA 10-HOUR
USACE EM-385
HEAVY EQUIPMENT OPERATOR SAFETY
COMFINED SPACE COMPETENT PERSON
FIRST AID / CPR / DEFIB
HAZARD COMMUNICATION (GHS)
Bi-Lingual weekly safety meetings are provided to every crew member on topics relevant to their job. All MDC jobsites are inspected by the Company Safety Officer in order to ensure the proper implementation of CAL/OSHA and other company safety requirements. All issues are addressed at bi-weekly management meetings to address any additional jobsite specific safety concerns.
Featured Clients
---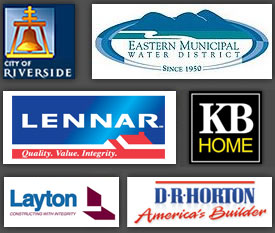 ---
To see the full list of recent clients, click the Read More button.